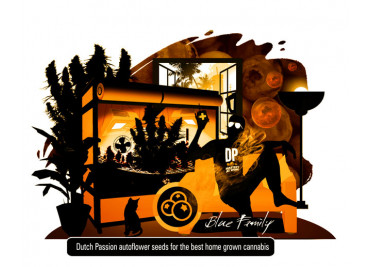 How to grow Blue Auto Mazar and Auto Blackberry Kush autoflower seeds indoors.
30/10/2017 | BluemMagic
In this weeks customer grow review 'Scally' grew Blue Auto Mazar and Auto Blackberry Kush indoors under HPS lights in air pot containers of soil/perlite. He produced a top quality harvest, the Auto Blackberry Kush showing a beautiful display of blue/purple color on the buds. The original grow diary is here on the autoflower network.
The autoflower seeds were germinated and grown in air pots of compost with added perlite. Many autoflower growers prefer to grow the plant from seed to harvest in the same container in which the seeds were germinated in. This minimizes the time lost due to transplanting into larger containers. Autoflowering cannabis varieties usually only have around 75 days of life, so many of the experienced growers prefer the plant to use that time to grow rather than adapting to new containers.
The air pot containers are an extremely popular way for home growers to produce their own cannabis, and many Dutch Passion seed growers get great results thanks to the numerous air holes around the sides which allow the root mass to get more oxygen. It also makes over-watering less damaging, over-watering is one of the most common errors from less experienced growers.